THE TRUSTWORTHY MUSIC STORY
I'm Steve Macke, owner of Trustworthy Music. Thank you for considering Trustworthy Music for your DJ needs. I look forward to partnering with you for your special event.
I grew up with a love for music, whether it was singing solos on the church stage (or the church bathroom), performing in state band and choir contests in school, or writing and performing music in bands throughout High School and College.
In 7th grade I discovered my passion for music was also a passion for playing the right song at the right moment for people to dance to. I grew up in a small town of about 600 people in northwest Wisconsin and like most schools, the budget for school dances was minimal to none. I saw the need as class president, so I volunteered to DJ, found a multi-disk CD player and used the school sound equipment to play some sweet songs, although the boys and girls would barley go within 10 feet of each other. It was an instant connection.
Throughout the rest of my junior high and high school career, I continued to volunteer my time DJ'ing  dances at school and my youth group. After graduating from high school, my good friend Joe Cremin and I were asked to officially DJ a Homecoming dance and - get this - they were going to even PAY us for it. Right then and there, Trustworthy Music was born.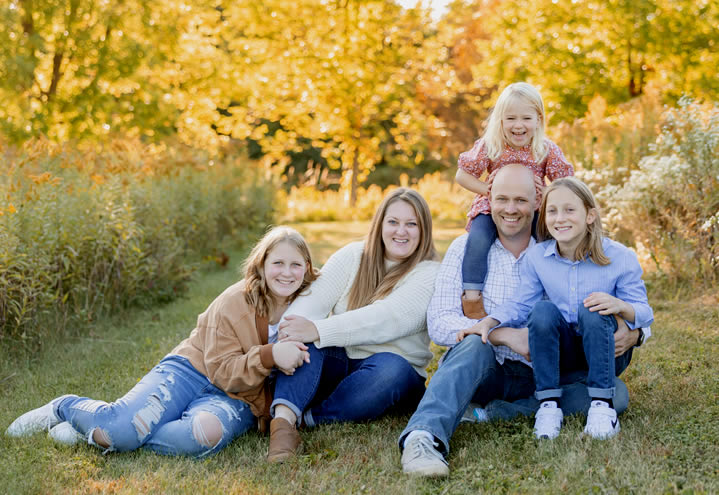 "Amazing DJ. We used him for our wedding and couldn't be happier with how well he handled the timing of our night. He has impeccable professionalism and was great with integrating with the crowd and making everyone feel comfortable."
Ryan & Ashley - Wedding at The Gardens of Castle Rock - Northfield, MN
OUR MISSON - WE WANT TO MAKE YOUR PARTY UNFORGETABLE
"Trustworthy Music exists to provide you an amazing, customized dance experience. We pride ourselves in providing a great night of entertainment for you and your guests without the extravagant pricing you'll find with other professional DJs. We firmly believe in being totally upfront about our pricing, that's why it is always fully disclosed under our "Packages" page."
— Steve Macke, CEO & Executive DJ of Trustworthy Music
Joe and I partnered together and formed Trustworthy Music with the intentions of providing an amazing, customized experience while still playing great, appropriate music, and providing customer service not normally found in the DJ industry.
Through word of mouth, our business grew. We continued to DJ school dances and eventually received an invitation to DJ our first wedding from a friend who was getting married. After that, things took off. I quickly realized weddings were a huge passion of mine and it was a great way for me to live out my love of music at the same time.
In late 2014 after 10+ years in the financial industry, I decided to take a leap and started running Trustworthy Music full-time with a desire to continue to push the industry standard of what is expected of a DJ company. Now we provide our DJ services through Minnesota and Wisconsin at over 100 weddings a year. 
Every couple has a personal consultation with me to make sure you receive the attention needed. I love DJ'ing and personally DJ as many weddings as I can, I have also hand-picked & personally-trained great people to DJ when I'm already booked, in the Twin Cities Metro plus Hudson & Siren, WI.
In 2020, my wife, Kristen, and our three kids purchased a 40 acre nature reserve along the West Coast of Wisconsin in Stockholm and turned it into a full wedding venue, Maidenwood.
Let us help make YOUR day about YOU!
---
"Steve went above and beyond for our wedding day. He made the process so easy and seamless. He kept the night moving along exactly as planned and was able to be flexible when needed. We couldn't have asked for more! Thank you Steve for celebrating with us."
Morgan & Josh - Wedding in Henderson, MN
CITIES WE HAVE SERVED
MORE THAN 100 CITIES IN THE MINNESOTA & WISCONSIN
Minnesota
Afton, Andover, Anoka, Apple Valley, Blaine, Bloomington, Buffalo, Burnsville, Byron, Cannon Falls, Carlton, Castle Rock, Channhassen, Chaska, Chisago City, Circle Pines, Cloquet, Columbia Heights, Coon Rapids, Cottage Grove, Delano, Duluth, Eagan, Eden Prairie, Elko New Market, Empire Township, Faribault, Farmington, Forest Lake, Golden Valley, Hampton, Hastings, Henderson, Henriette, Hinckley, Hopkins, Inver Grove Heights, Jordan, Lake City, Lakeville, Lindstrom, Lonsdale, Maple Grove, Maplewood, Medina, Mendota Heights, Minneapolis, Montgomery, Mora, New Prague, North Branch, Northfield, Oakdale, Owatonna, Pine City, Plymouth, Prior Lake, Red Wing, Rochester, Rock Creek, Rockford, Rosemount, Rush City, Saint Cloud, Saint Louis Park, Saint Paul, Sandstone, Savage, Shafer, Shakopee, Stewartville, Stillwater, Taylors Falls, Vadnais Heights, Waconia, Webster, Welch, Willow River, Winona, Woodbury.
Wisconsin
Amery, Baldwin, Balsam Lake, Barron, Barronett, Birchwood, Cable, Cameron, Centuria, Cumberland, Cushing, Danbury, Dresser, Ellsworth, Frederic, Glenwood City, Gordon, Grantsburg, Hammond, Hayward, Hertel, Hudson, Luck, Miltown, Minong, New Richmond, Osceola, Pepin, Prescott, Rice Lake, River Falls, Roberts, Saint Croix Falls, Sarona, Shell Lake, Siren, Somerset, Spooner, Springbrook, Stockholm, Stone Lake, Superior, Trego, Turtle Lake, Voyager Village, Webster, Woodville.